Top Notch Summit 1 Teacher's Edition and Lesson Planner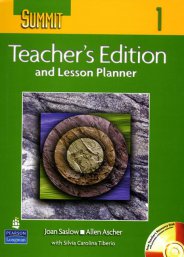 | | |
| --- | --- |
| Автор: | Joan M. Saslow / Allen Ascher |
| Издательство: | Pearson Longman |
| ISBN: | 9780131106307 |
Description
All students want and need to participate in real discussions. Summit systematically goes beyond conversation model practice and has unique step-by-step discussion builders that enable students to prepare for successful discourse. This results in increased accuracy, increased fluency, greater complexity of expression, richer use of vocabulary, and much less fossilization.
Features
Features and Benefits
F: Confirmation of progress at the end of every two-page lesson.
B: Students see daily progress as they apply a clear communication goal in every lesson.
F: Conversation strategies
B: Provide essential social language that is unforgettable and easy to personalize.
F: "Grammar Booster" and "Pronunciation Booster"
B: Provides extra grammar and pronunciation support with additional presentation and practice.
F: Strong vocabulary development
B: Clearly presented, actively practiced and recycled words, phrases, collocations, and skills.
F: "Top Notch Interactions"
B: Unique step-by-step discussion-building activities adequately prepare all students for successful discussion.
F: Teacher's Edition
B: Concise timed lessons plans for each class session. Equipped with a free Teacher's Resource Disk with reproducible activities to personalize teaching styles.